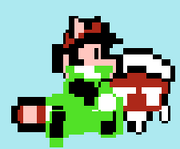 A
Glitch
for level 5-3 of
Super Mario Bros. 3
which lets the player control a new variant of the Goomba Shoe.
How to do it
Edit
Careful...
Edit
Don't hold the Spiny too long, or else it will hurt you and you will lose the Shoe. It is also reccomended that you use a Super Leaf in case you lose doing this glitch, or else you will lose a good Tanooki Suit.
This glitch is interesting because it can count as a new Suit in SMB3, but is only temporary and a bit useless.
Video Walkthrough
Edit