Home
Talk

0
90pages on
this wiki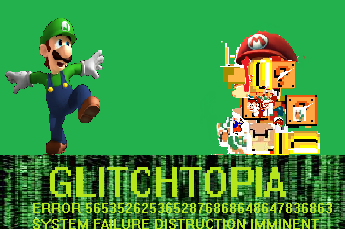 Welcome to the Glitchtopia - The Video Game Glitching Wiki
A Wiki on the weird (and some times slightly painful) things that happen to Mario, Luigi, Sonic, Donkey Kong, Spyro, MegaMan, Crash Bandicoot, and Link. How to roast a video game in the system!! This Wiki is all about the weird things that happen when something goes wrong in a video game. From color errors and game crashes, to difigurement and disintegration, video game glitches have been around since arcades, and continue to the Wii, Playstation 3 and the 3DS. *WARNING! USER DISGRETION ADVISED. RUINED GAMES AND GAME SYSTEMS MAY OCCUR!* (Glitchtopia is not responsible for any damage caused by our glitches).
Hello again
I, Googlydoe, the founder of Glitchtopia, have come back to restore the wiki. Please help too.
New Glitch Updates
Now every two days Glitchtopia will be updated with the most recently discovered glitches from different video games. These glitches' articles will be made eventually after being added. When Glitches are taken off of this, it either means that they have been created or it is a fake or intentional Glitch.
What's the best glitch ever?
New pages
Latest activity
Help
Here is a list of Video Game Glitch articles that you can help by adding your own glitches!
Scooby Doo: Night of 100 Frights
Crash Bandicoot 2: Cortex Strikes Back