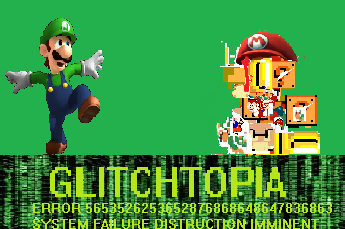 Welcome to the Glitchtopia - The Video Game Glitching Wiki
A Wiki on the weird (and some times slightly painful) things that happen to Mario, Luigi, Sonic, Donkey Kong, Spyro, MegaMan, Crash Bandicoot, and Link. How to roast a video game in the system!! This Wiki is all about the weird things that happen when something goes wrong in a video game. From color errors and game crashes, to difigurement and disintegration, video game glitches have been around since arcades, and continue to the Wii, Playstation 3 and the 3DS. *WARNING! USER DISGRETION ADVISED. RUINED GAMES AND GAME SYSTEMS MAY OCCUR!* (Glitchtopia is not responsible for any damage caused by our glitches).
New pages
Latest activity
Help
Here is a list of Video Game Glitch articles that you can help by adding your own glitches!
Scooby Doo: Night of 100 Frights
Crash Bandicoot 2: Cortex Strikes Back
Ad blocker interference detected!
Wikia is a free-to-use site that makes money from advertising. We have a modified experience for viewers using ad blockers

Wikia is not accessible if you've made further modifications. Remove the custom ad blocker rule(s) and the page will load as expected.